1. What does V10 Plus stand for?
The letter "V" means Variety. The number "10" refers to the 10 concepts of our skin care range, which are: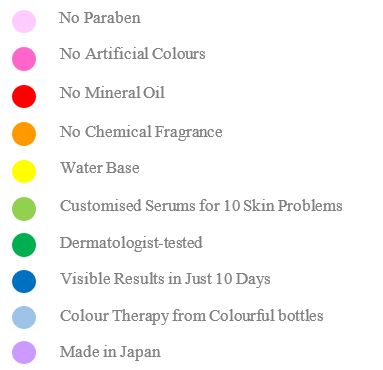 And the word "PLUS" means that you can add our serums to your current skin care regime.
2. Where did "V10 Plus" originate from?
V10 Plus originated from Toyota City in Aichi, Japan. The founder, Mrs Akiko Yokota together with Mr Nobu, a chemist with 19 years of experience in the skincare industry, developed the series of customisable skincare range. This skincare range is the world's first skin supplement concept with a unique self-consultation system, which recommends the most suitable treatment based on your skin's condition.
3. Are all the ingredients in V10 Plus products natural?
V10 Plus products are water based and made predominately from natural ingredients, such as plant extracts. V10 Plus Amino and Collagen serums also contains marine collagen made from fresh sea bream's scale.
4. Why are there so many different types of serums in the V10 Plus range?
Each serum caters for a different skin problem. We have 11 serums in our range. They are classified into 5 different series:
Hydrating Series;




Anti-Aging Series;




Brightening Series;




Acne Treatment Series; and




S

ensitive Series.



5. How do I know which serum combination is best suited for my skin?
V10 Plus has a unique self-consultation system that recommends the most suitable serum treatment based on your skin's condition. All you have to do is download and open in excel the automated self-consultation sheet or complete the table below: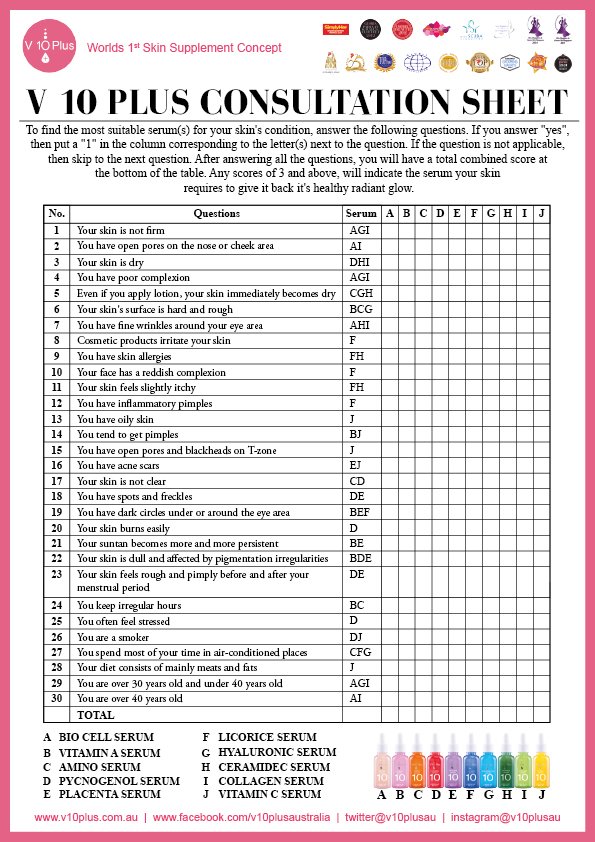 6. How do I use the V10 Plus serums?
After cleansing your face with one of the V10 Plus cleansers, place 1 to 3 drops of each serum onto your palm. V10 Plus serums are designed to work together. Depending on how many serums you are using, you can have one drop of multiple serums or a few drops of one particular serum. Apply the serum over your face. Once applied, you can continue with your own daily skin care routine. For more information, please refer to the instructions on the How to Use guide.
7. How long does it take before I see results?
Visible results will be different for each individual depending on their skin condition. However, a customer survey conducted in Europe with 100 users, found that results were seen in as little as 10 days, and maximum results in 21 days after use.
8. What awards or recognition has V10 Plus received?
V10 Plus has won many awards across the globe. In Europe and Asia, it has won awards such as Simply Her Smart Shopper Awards 2011 (Singapore), Cosmopolitan Beauty Awards 2013 (Finland), and Top Brand Asia 2014 Platinum (Philippines) to name a few.


9. Shipping and Delivery Times?
Free shipping for orders of $100 or more. Postage is $9 for orders less than $100 and delivered to an Australian address.
10. Can I stock V10 Plus products at my place of business?
Yes, absolutely. We have wholesale packages for retailers and beauty salons, and would be pleased to show you our range of V10 Plus products. Should you like a presentation or for any other enquiries, please send an email to admin@v10plus.com.au or phone +61 447 080 880.