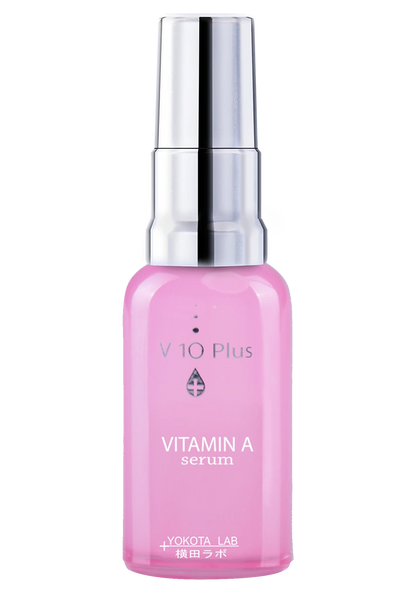 V10 Plus Vitamin A Serum
What is Vitamin A?
Retinol is another name for vitamin A. It is an extremely effective cell-communicating ingredient that has the ability to connect to almost any skin cell receptor site and tell it to behave like a healthy, younger skin cell.
Retinol (Vitamin A) also functions as an antioxidant that can interrupt the free-radical damage process which causes wrinkling and other signs of aging. Moreover, it has been shown to increase collagen production, help fade discolorations from environmental damage, and there is emerging research pointing to its potential for building elastin.
For those suffering from enlarged pores, although retinol cannot change the pore size you have as a result of your genetic makeup, it can reduce the size of pores that have enlarged due to clogging or environmental damage such as sun damage. For example, in sun damaged skin, the follicular keratin cells that are part of the pore lining can become sluggish and build up, causing the pore wall to stretch. Due to its cell-communicating abilities, retinol can step in and "tell" these lazy-acting cells to get back to work, doing what they should be doing (and likely were doing, before sun damage caused them to malfunction). The result can be improved pore function, which in time, will help enlarged pores return to their normal size.
Lack of vitamin A causes the skin to become keratinized and scaly. Rough, dry skin is a common sign of vitamin A deficiency, which often first appears as rough, raised bumps on the back of the arms.
NB: Similar to other skincare products that contain retinol it is recommended not to use V10 Plus Vitamin A serum during pregnancy.
The Benefits of V10 Plus Vitamin A serum
There are several forms of Vitamin A. V10 Plus vitamin A Serum uses Vitamin A palmitate (retinol palmitate), a form of vitamin A that is more stable and formulated to naturally be absorbed by the skin.
V10 Plus Vitamin A serum helps improve rough, dry and dull skin. It will reduce the look of dark circles, accelerate blood circulation to help skin rejuvenate faster and increases skin metabolism for healthy glowing skin.
Ingredients
Aqua/ Water, Butylene Glycol, Pentylene Glycol, Glycerin, PEG-60 Hydrogenated Castor Oil, Lysolecithin, Carbomer, Phenoxyethanol, Retinyl Palmitate, Hydroxyethylcellulose, Potassium Hydroxide and Sodium Lactate.
Reviews