V10 Plus Pycnogenol Serum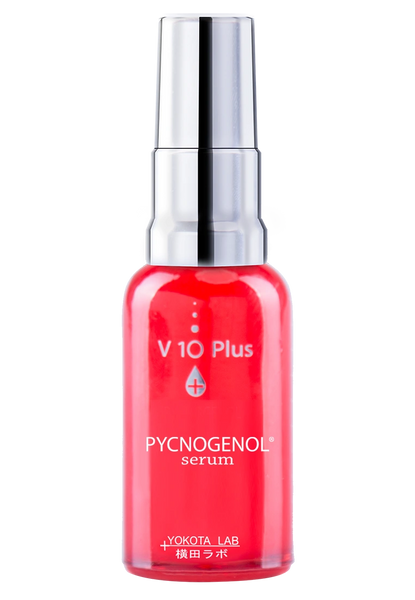 V10 Plus Pycnogenol Serum
What is pycnogenol?
Pycnogenol is an extract derived from the bark of French coastal pine trees in Southern France (Bordeaux). The extract contains bioflavonoids and proanthocyanidins, which are also found in fresh fruits and vegetables. Both these components are known to possess antioxidant properties and are thought to have anti-carcinogenic (anti-cancer) properties as well. Therefore, Pycnogenol is often incorporated into skincare products for its antioxidant ability to help fight against free radicals, which can damage skin cells. This extremely potent extract is 350 and 170 times stronger than anti-oxidant Vitamin C and Vitamin E respectively.
The Benefits of V10 Plus Pycnogenol serum
Pycnogenol derived from pine bark helps break up and fade brown spots caused by aging, sun damage or past acne. Additionally, it's been shown to bind and protect collagen, the protein that keeps the skin tight and smooth. It also has the ability to block enzymes and is rich in antioxidants to neutralise damage from free radicals that break down collagen and elastin, so your skin develops fewer lines and wrinkles. The Pine bark extract has a unique ability to restore circulation, improve skin elasticity and hydration, and remove toxins and waste products so that your skin is replenished.
V10 Plus Pycnogenol Serum improves stressed and damaged skin. Its active ingredient - French pine bark extract is rich in antioxidants to neutralise damage from free radicals and helps rebuild skin's elasticity.
Ingredients
Aqua/ Water, Butylene Glycol, Pentylene Glycol, Glycerin, Lysolecithin, Carbomer, Phenoxyethanol, Pinus Pinaster Bark Extract, Hydroxyethyl cellulose and Potassium Hydroxide.
Reviews