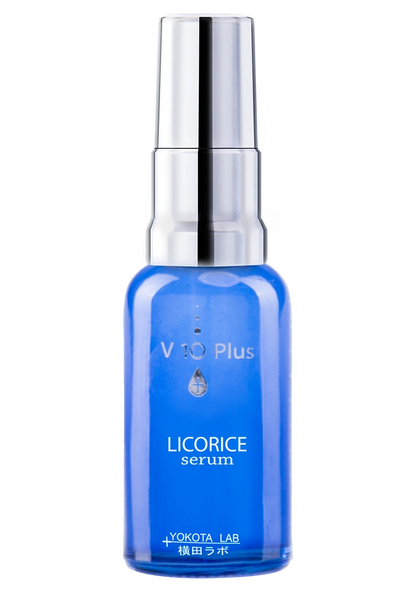 V10 Plus Licorice Serum
What is Licorice?
Licorice root is one of the oldest remedies in history. Ancient Egyptian healers began using licorice root four thousand years ago, and it has been continuously used in both Eastern and Western medicine ever since to treat a wide variety of ailments. Licorice is a plant extract that is rich in glycyrrhizate, an effective tyrosinase inhibitor to help prevent hyperpigmentation. In addition, licorice root contains constituents that interrupt the stimulation of an enzyme that activates melanin production and can be effective in improving dark spots and hyperpigmentation.
The Benefits of V10 Plus Licorice Serum
Licorice aids healthy skin by providing the skin with the following benefits:
Improve skin cell regeneration and DNA protection;

Soothe, calm and treat skin conditions such as acne;

Control redness and flushing; and

Diminish dark pigmentation.
An active ingredient in V10 Plus Licorice Serum is Glycyrrhiza Glabra (Licorice), an extract from the root and stalk of the pea family plant that has the additional benefits of an anti-inflammatory to effectively soothe sensitive or irritated skin.
V10 Plus Licorice Serum soothes irritated, sensitive and inflamed skin. Licorice root extract effectively reduces the swelling and redness of pimples and sunburnt skin with its anti-inflammation and calming effects.
Ingredients
Water, Butylene Glycol, Pentylene Glycol, Glycerin, Lysolecithin, Carbomer, Phenoxyethanol, Glycyrrhiza (Licorice) Root Extract, Hydroxyethylcellulose, Potassium Hydroxide, Citric Acid and Sodium Citrate.
Reviews