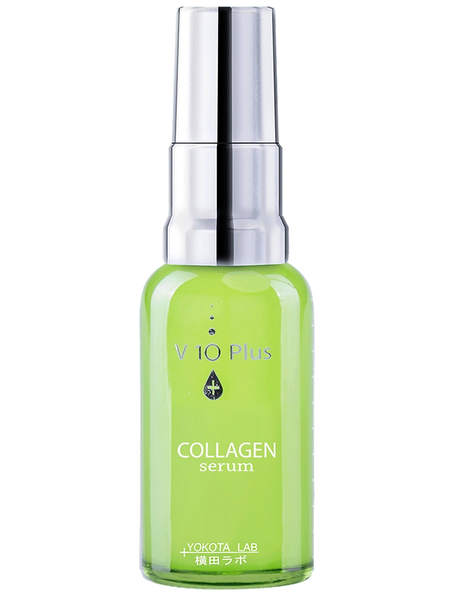 V10 Plus Collagen Serum
What is collagen?
Collagen is the body's major structural protein composed of three protein chains wound together in a unique triple helix. It plays a crucial role in providing the structural scaffolding for cells, tissues and organs. Collagen makes up to 75% of our skin and is responsible for the smooth, plump appearance of young, healthy skin. Collagen is created by specialised skin cells located in the dermis known as Fibroblasts. These cells continuously generate collagen throughout our lives to repair and replace damaged collagen tissue or build new cellular structures.
As we age, collagen production level decreases leading to an increase in degradation and the loss of structure to our skin. The visible effects are the development of unwanted wrinkles and the appearance of aged skin. There are several ways to replace collagen, such as with dermal filler injections, eating foods that contain this chemical, and even taking collagen pills. However, using a collagen serum is a more direct method of delivering this protein to the skin, especially when specific problem areas need to be targeted.
The Benefits of V10 Plus Collagen Serum
Normally, it is difficult for the skin to absorb collagen due to its chemical properties and large molecular size. V10 Plus Collagen Serum contains a marine collagen extracted from fresh sea bream scales. It contains more amino acids and its molecule is smaller than other animal collagen extracts. This smaller molecular structure improves the rate of penetration into the skin. When applied to the skin, collagen serum works to fill in fine lines and wrinkles and help the epidermis retain moisture.
V10 Plus Collagen Serum improves tired ageing skin due to the active nutrient rich marine collagen, which helps to maintain skin elasticity. It also prevents and improves the look of wrinkles and fine lines to restore skin's youthful and supple appearance.
Ingredients
Water, Butylene Glycol, Pentylene Glycol, Glycerin, Lysolecithin, Carbomer, Hydroxyethylcellulose, Potassium Hydroxide, Phenoxyethanol, Citric Acid, Sodium Citrate, Hydrolyzed Elastin and Soluble Collagen.
Reviews